MOONDROP DAWN PRO Dual CS43131 Portable USB DAC and AMP
Dual CS43131 Flagship DAC Chips
DAWN PRO incorporates dual flagship decoding and amplifier chips, the CS43131, developed by Cirrus Logic. Additionally, it integrates a HiFi-grade USB digital interface chip, along with dual independent crystal oscillators and three discrete power supply chips. This amalgamation forms a sophisticated HiFi audio circuit architecture, characterized by high efficiency and top-tier performance. This meticulously designed system guarantees ample thrust, remarkably low distortion, minimal noise, and an intricate soundscape, all achieved with minimal power consumption.
100-level Smooth DAC Volume Control
Offering near-perfect 100-level volume control, this feature distinctively isolates the device's volume control from the smartphone. This not only enhances overall performance but also delivers a seamless and refined control experience.
131dB Dynamic Range Larger Dynamic
Boasting an extraordinary reduction in background noise to an ultra-low level, the system ensures that your audio experience remains undisturbed by any unwanted interference. Furthermore, the distortion levels have been meticulously minimized to an astonishing 0.0001%, guaranteeing unparalleled audio purity. The Signal-to-Noise Ratio (SNR) further impresses by soaring beyond 116dB, underscoring the system's exceptional ability to faithfully reproduce the most delicate nuances in your soundscapes.
4Vrms/120mW Lossless Output Power
Delivering an impressive 4Vrms/120mW of lossless output power, this feature ensures a robust and dynamic audio performance that can effortlessly drive a wide range of headphones. Its versatility extends across various headphone types, ensuring seamless compatibility and optimal performance with each. Whether you're using high-impedance audiophile headphones or more sensitive in-ear monitors, this system adapts flawlessly, catering to the unique characteristics of each headphone model. This adaptability underscores its ability to provide an exquisite audio experience, fine-tuned to your individual preferences and headphone choices.
Aluminum Alloy Housing Diversion and Heat Dissipation Design
The chassis of DAWN PRO seamlessly integrates aviation-grade aluminum alloy through a combination of CNC and mold forming techniques. Anodized surface treatment enhances both its tactile feel and robustness, culminating in an exceptional blend of texture and durability.The heat dissipation architecture of DAWN PRO draws inspiration from the design principles of high-fidelity desktop devices. Strategically positioned heat dissipation vents, situated above the areas prone to higher heat generation, optimize the system's cooling efficiency. This intelligent arrangement effectively enhances heat dissipation, contributing to the device's overall thermal management, ensuring prolonged and stable operation.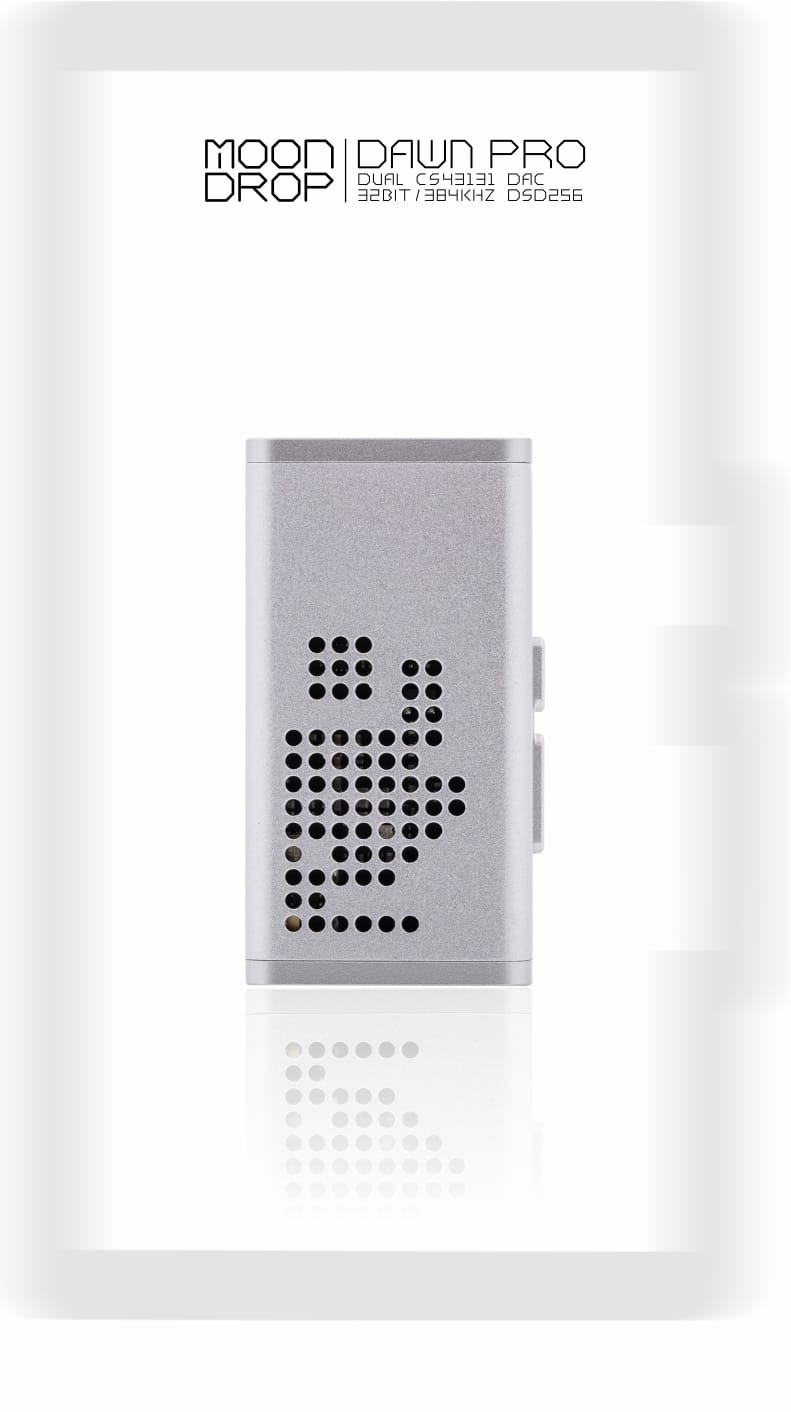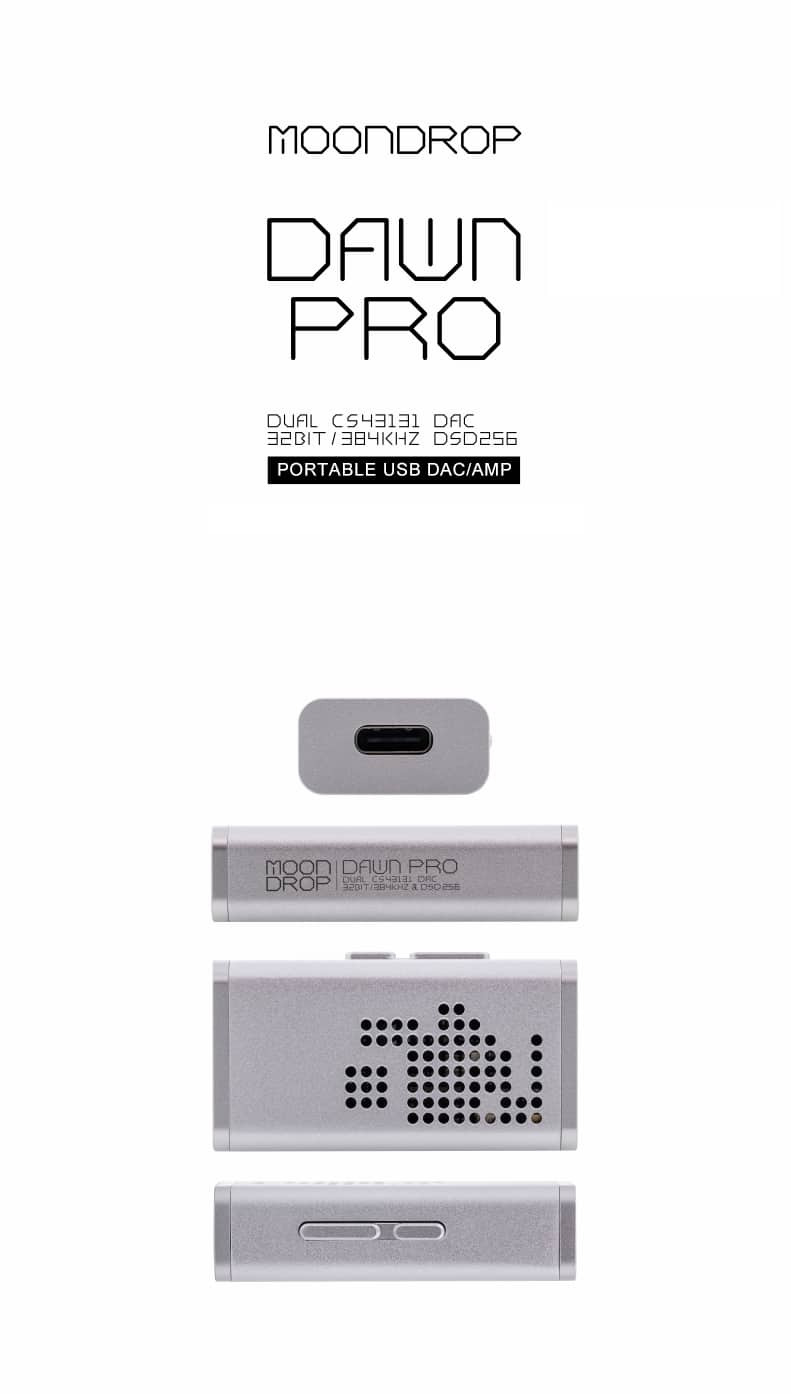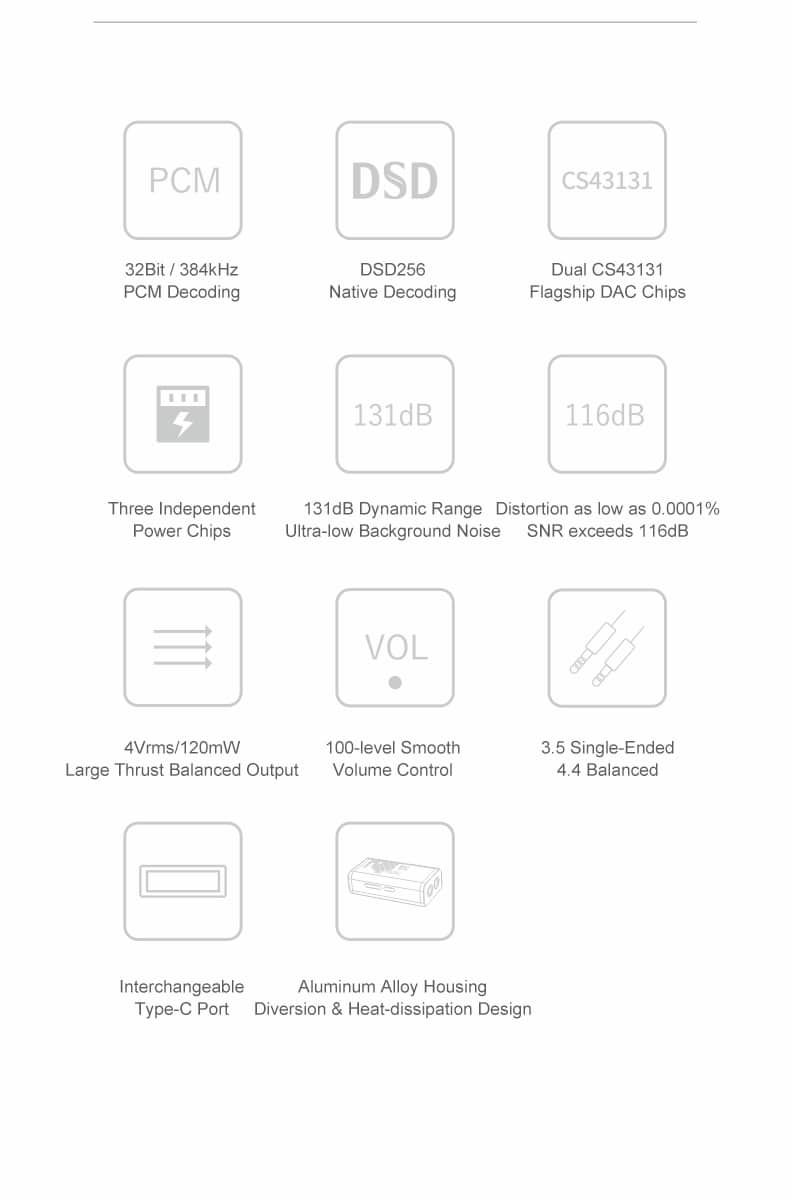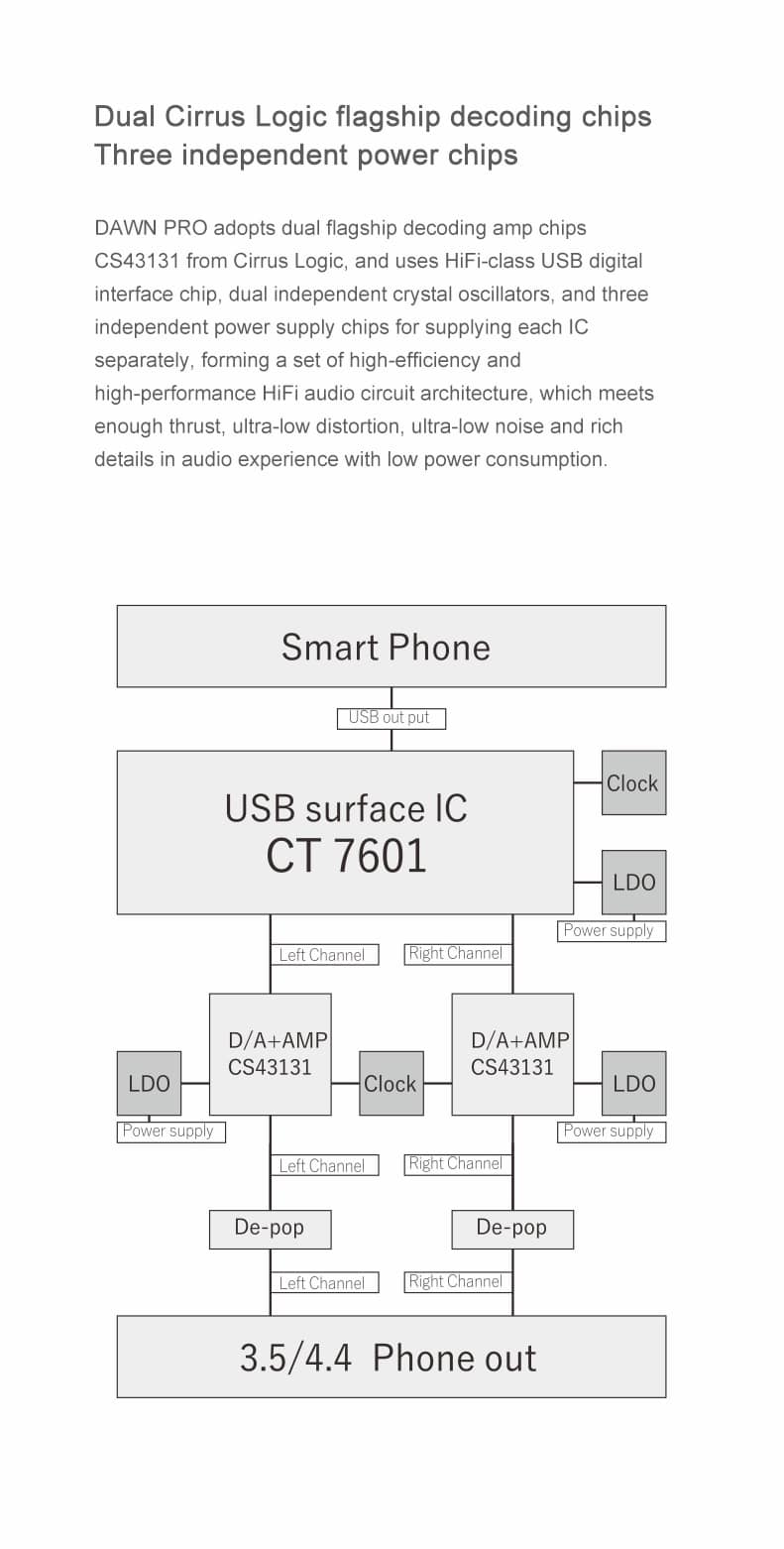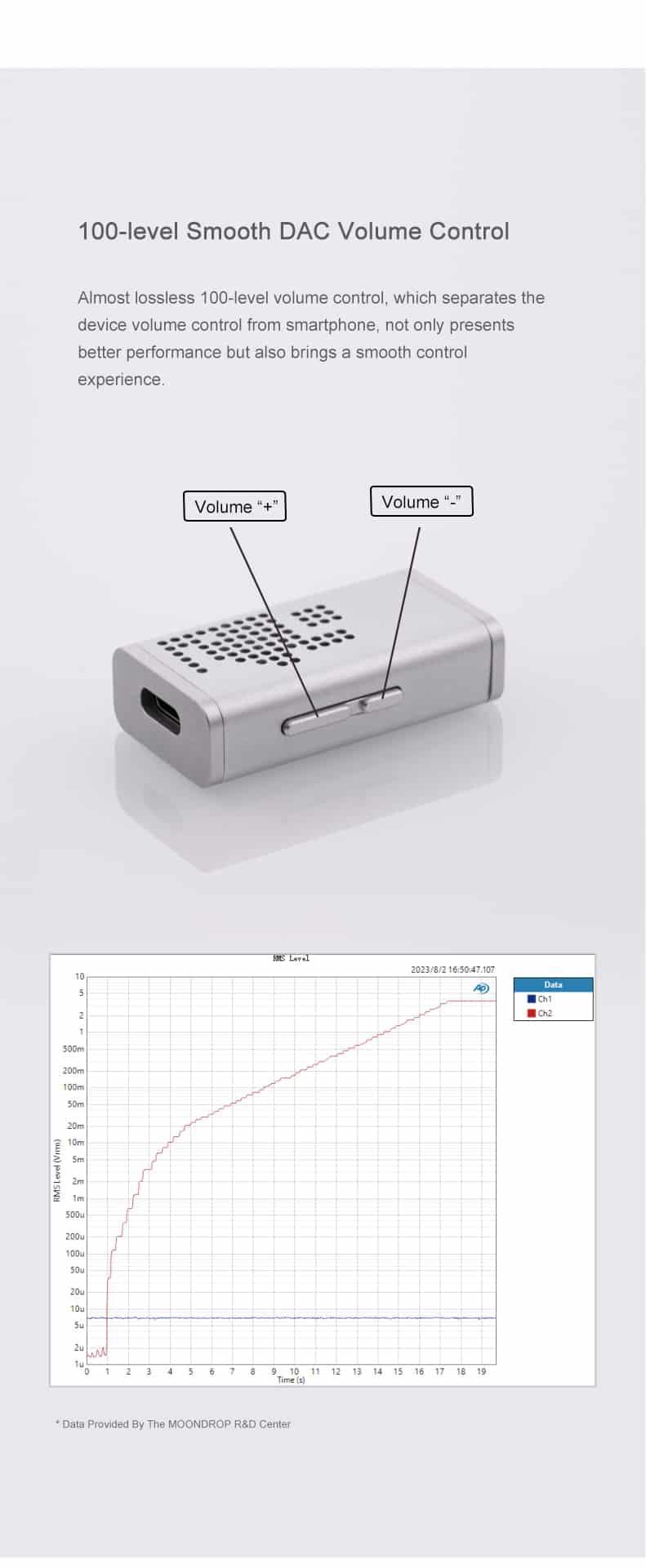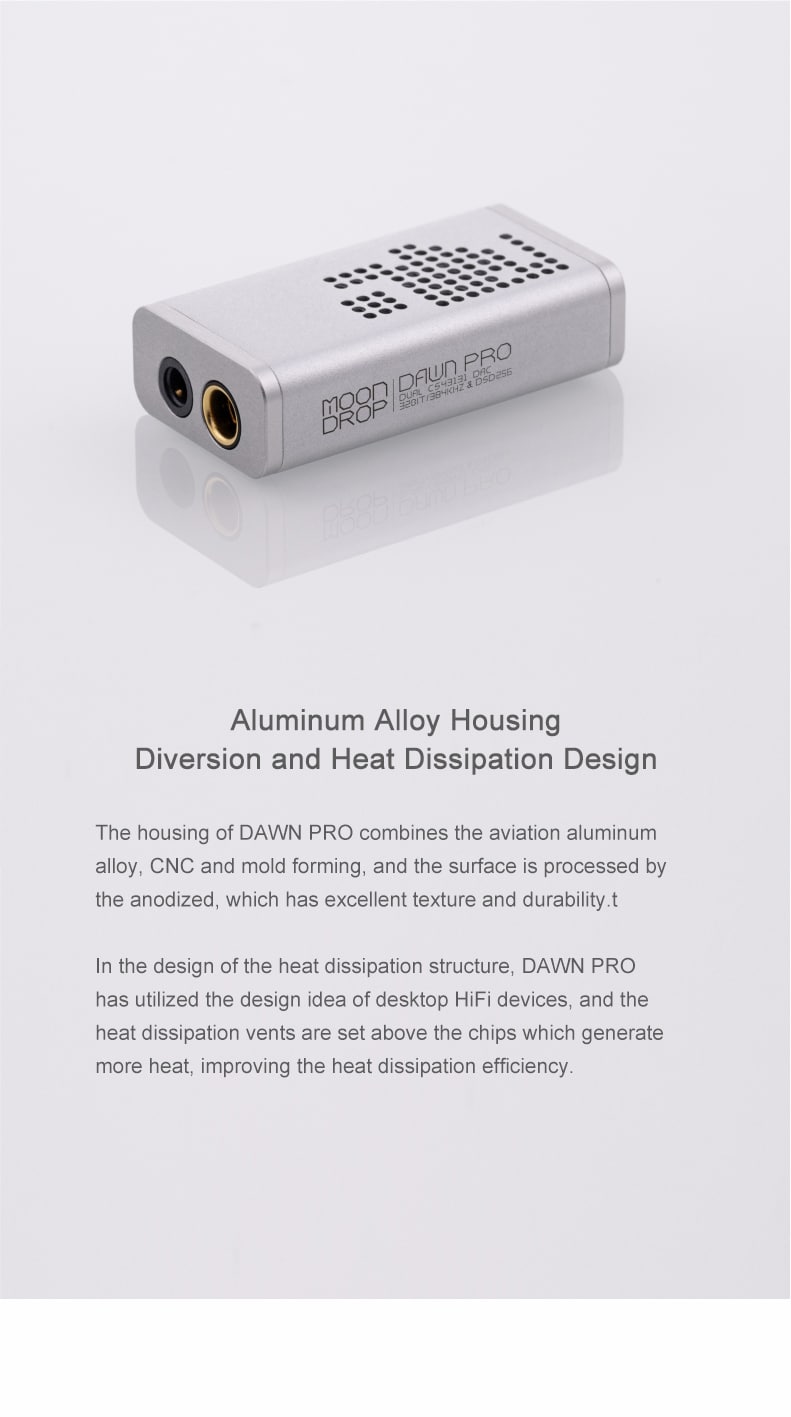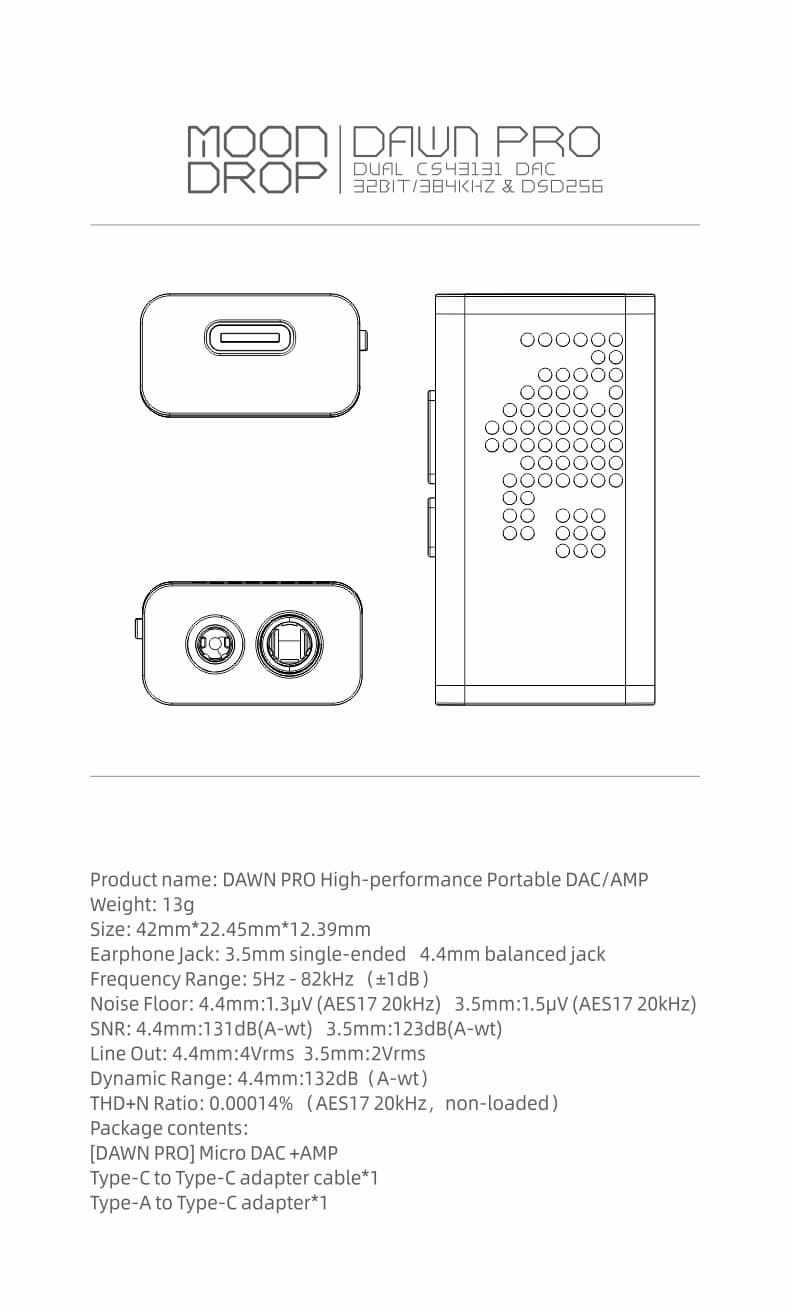 More Specifications:
Model: DAWN PRO High-performance DAC/AMP
Weight: 13g
Size: 42mm * 22.45mm * 12.39mm
Headphone Connector: 3.5 Single-ended, 4.4mm Balanced
Frequency Response: 5Hz – 82kHz (±1dB)
Background Noise:

4.4mm: 1.3μV (AES17 20kHz)
3.5mm: 1.5μV (AES17 20kHz)

SNR:

4.4mm: 131dB (A-wt)
3.5mm: 123dB (A-wt)

Dynamic Range: 4 4mm: 132dB (A-wt)
Line Output:
4.4mm: 4Vrms
3.5mm: 2Vrms
THD+N: 0.00014% (AES17 20kHz, no load)
Package
1. DAWN PRO * 1
2. Type-C to Type-C adapter * 1
3. Type-A to Type-C adapter * 1