KZ ZS10 PRO X Upgraded 1DD+4BA Hybrid Driver HiFi IEM
The upgraded KZ ZS10 PRO X earphone is one of a kind with years of careful research, development and improvement. The new headset features enhanced high-frequency performance and custom drivers, meaning a more sensitive transient response, with increased bass impact and better sound clarity. It's also designed with premium material for comfort and the finest finish. If you are looking for a everyday earphone that delivers both clarity and power, this one will not let you down.
10mm Dynamic Driver+4 Custom Balanced Armatures
With the upgraded 10mm dynamic driver, the ZS10 PRO X increases sensitivity of 1KHz compared to the previous model. Four custom balanced armatures provides stunning high-performance with crystal clear highs, smooth mids, and powerful lows while improved hybrid technology ensures increased sensitivity and faster response in your music and voice calls.
Classic Alloy Faceplate+Resin Shell
Maintaining the classic look of KZ ZS10 PRO, the KZ ZS10 PRO X features an alloy faceplate, complemented with a resin cavity. Two different materials lead to an innovative collision of hard and soft. The alloy faceplate is resistant to everyday wear-and-tear to provide longer lifespan.
Enhanced Detachable 0.75mm 2Pin Connector
Improved recessed 0.75mm 2Pin connector will provide better durability and stability. Each wire is added with 500D nylon wire to prolong its lifespan and reduce the stethoscope effect. Detachable feature ensures more possibilities for those who love to change things up. Either you want to experience next level sound quality with your private cable or simply like to change it, the ZS10 PRO X provides convenience should your needs change later on.
Ergonomic Shape, Wide Compatibility
This cutting-edge in ear monitor from KZ features a unique blend of style and functionality, combining comfort with functionality and sonic accuracy. Ergonomic shape ensures lasting comfort throughout the day. No more fatigue after longtime use. For keen listeners, audiophiles, and gamers, the newly upgraded KZ ZS10 PRO X will deliver sheer enjoyment regardless of the genre or style.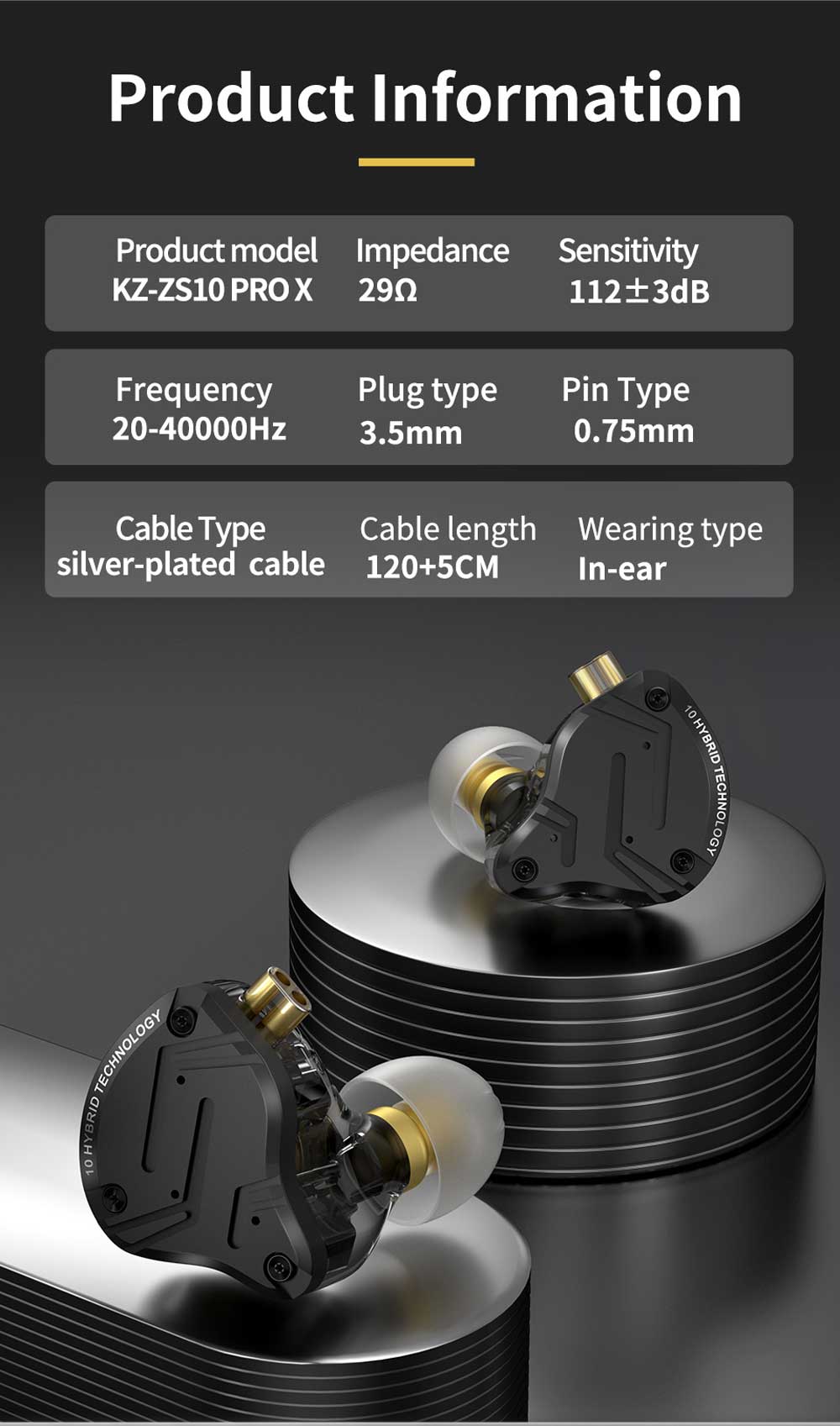 KZ ZS10 PRO X Upgraded 1DD+4BA Hybrid Driver HiFi IEM
Buy KZ ZS10 PRO X Upgraded 1DD+4BA Hybrid Driver HiFi IEM online in Bangladesh on umrelo.com at lowest price in Bangladesh.
Buy original KZ Headphones in Bangladesh from umrelo.com. Check other KZ Headphones here 
Umrelo.com brings you the biggest collection of Wired Headphones collection in Bangladesh. Check all the collection: https://umrelo.com/wired-headphones/
Buy latest and trendy Headphones , Wired Headphones, Wireless Headphones, True Wireless Headphones and Speakers from a wide range of Brands at best price with official Warranty from umrelo.com.
umrelo.com has a dedicated section for all your audio needs. Visit The Audio Store to get latest update on
kz edx pro price in bd , airpods price in bd , bluetooth headphones, kz headphone price in bd  anker headphones price in bd , wireless headphones price in bd, wired headphopnes price in bd ,  and many more and get best price, warranty service and after sales service every time.