Edifier P180 Plus Stereo Earphone
14.2mm magnetic NdFeB drivers that ensure an excellent audio performance
P180 Plus produces strong bass for a classic earphone and It feels perfect when listening to any type of music
Comfortable and easily fits into the ear
It has a three-button wired controller for easy operation from music to calls
A high-sensitivity Omni-directional microphone ensures the clarity of phone calls
It has a built-in mic and a 3.5mm connector (compatible with Android devices only)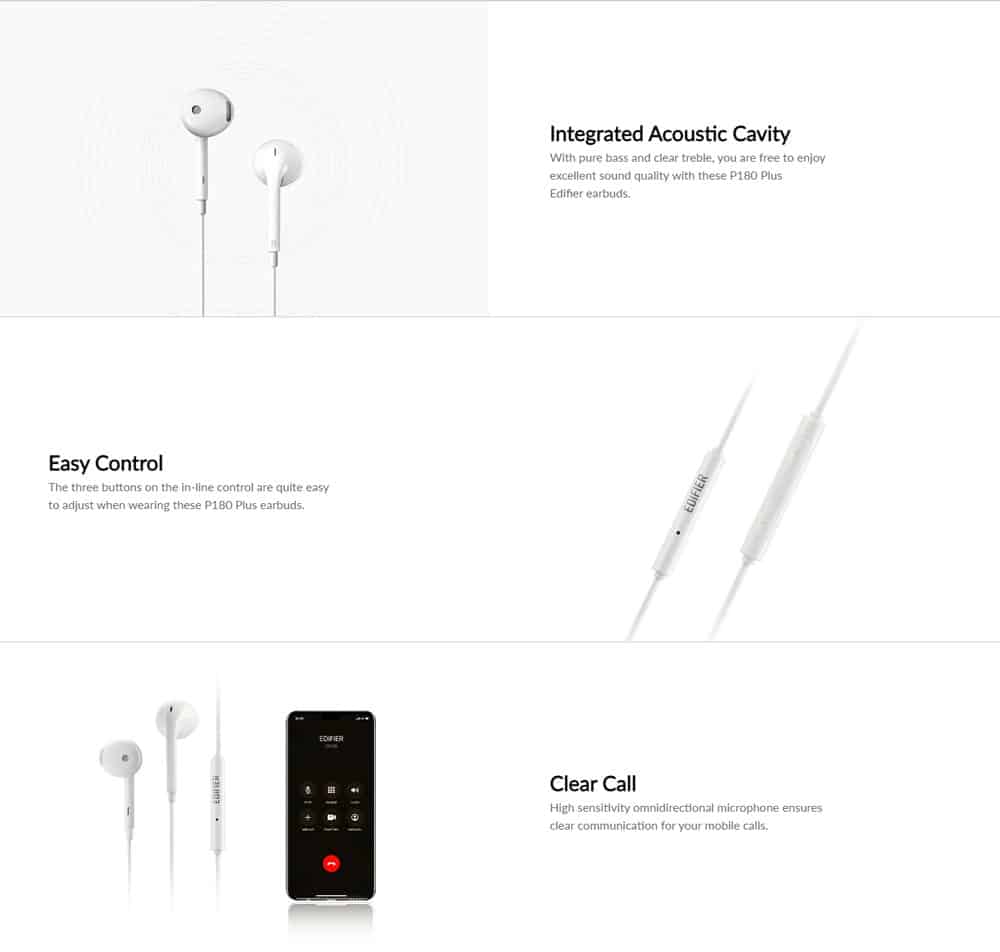 Description:
Edifier's P180 plus semi-in-ear earbuds with an inline microphone deliver a great audio experience with the 14.2mm magnetic NdFeB drivers. For earphones, the Edifier P180 plus produces strong bass that most find perfect when listening to any type of music. The P180 plus earphones are comfortable and easily fit into the ear delivering the sound quality any audiophile can appreciate. The inline controls allow for quick access when pausing tracks to talk with friends or family.
The tangle free wire is a relief for many who want to enjoy their experience with no hassle. Spending time unwinding your earphones is a thing of the past when it comes to the P180 plus earphones. The TPE audio cable prevents your earphones from tangling, making your earphones more durable.
These P180 plus earphones provide hands free communication when you're on the go. These in-ear headphones are compatible with most mobile devices and you can control your calls and music with a click of a button. A Microphone/remote is conveniently located on the wire for easy access.
Specifications
Model: P180 Plus
Connection Type: Wired
Impedance: 32 Ohm
Sound level/Sensitivity: 97dB
Frequency: 20Hz – 20KHz
Cable length: 1.3m
Connector: 3.5mm
Drivers: 14.2mm magnetic NdFeB driver
Weight: 14g
Edifier P180 Plus Stereo Earphone
Edifier P180 Plus Stereo Earphone is  available at the best price in Bangladesh on umrelo.com
Learn more about Edifier P180 Plus from here.
EDIFIER officially Beijing Edifier Technology Company, Ltd., is a Chinese audio equipment manufacturer that primarily produces speakers, music systems, and headphones for personal and home entertainment. Buy Edifier Products in Bangladesh from online shopping store umrelo.com and enjoy Brand Warranty and fast delivery all over Bangladesh.
Buy latest and trendy Headphones , Wired Headphones, Wireless Headphones, True Wireless Headphones and Speakers from a wide range of Brands at best price with official Warranty from umrelo.com.
umrelo.com has a dedicated section for all your audio needs. Visit The Audio Store to get latest update about Headphones, True Wireless Earphones , Bluetooth Speakers and many more and get best price, warranty service and after sales service every time.