Anker SoundCore Space Q45 Adaptive Noise Cancelling Headphones
Enjoy Personal Space Anywhere:

 Low, mid, and high frequency noises are individually targeted by the 3-stage noise cancelling system. Hybrid active noise cancelling reduces low-frequency sounds like airplane engines and traffic noise by up to 98%. The other 2 stages filter out mid and high frequency noises such as crying babies and barking dogs.

Ideal for Long-Haul Flights and Traveling:

 Up to 50 hours of playtime in noise cancelling mode will easily cover a vacation, an around-the-world flight, or weeks of commutes. In normal mode, you'll get up to 65 hours of listening, and if you run out of power mid-journey, a 5-minute fast charge gives you 4 hours of playtime.

Tailored Noise Cancelling Response:

 Adaptive noise cancelling detects external noises around you and automatically adjusts to different tailored modes. It switches to maximum level on flights or trains, reduces wind noise when you're outdoors, and switches to a lower, comfortable level indoors.

Highly-Detailed Sound: 

Experience sound with new levels of detail thanks to Space Q45 Bluetooth headphones' innovative double-layer diaphragm drivers. Bass is extended for extra punch, vocals are rich, and treble is crisp—allowing every layer of the song to shine through.

Hi-Res Wireless Sound:

 LDAC mode transmits up to 3× more data than standard Bluetooth codecs for a stunning high-resolution experience, even when using Space Q45 Bluetooth headphones in wireless mode.

Secure and Well-Fitting:

 Space Q45 noise cancelling headphones are packed with comfort-enhancing details. The aluminum alloy hinges flex to fit the shape of your head, and the cushioned headband has a seamless sliding design for easy extension. To fit ears of different sizes, the ear cups have a wider diameter, plus bouncy-soft cushioning for hours and hours of comfort.

soundcore App:

 Choose from 22 EQ presets, select a suitable level of noise cancelling and transparency, set volume level limits, customize the controls, and more.

Customized Transparency: 

Space Q45 noise cancelling headphones also has Talk mode, allowing you to speak to people in your vicinity with ease, while the 5 levels of transparency in the app allow you to choose how much of your surroundings you let in.

Multipoint Connection: 

Connect Space Q45 noise cancelling headphones to 2 devices at the same time—ideal for when you want to switch between listening to music, attending remote meetings, and making calls.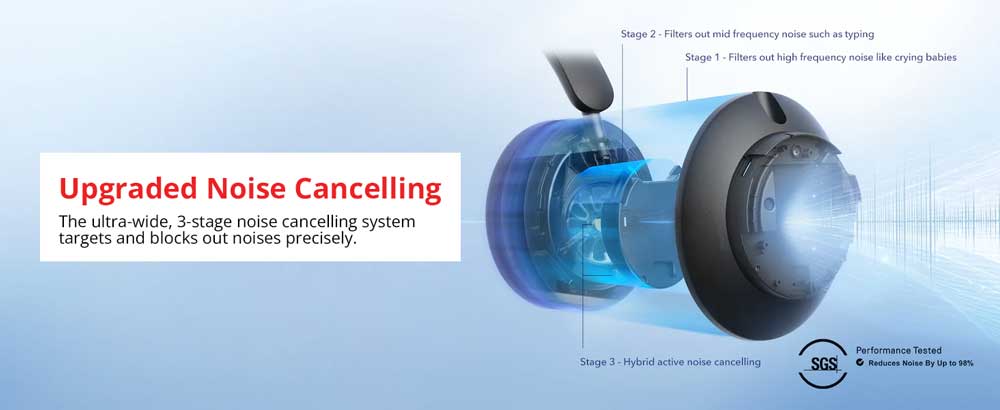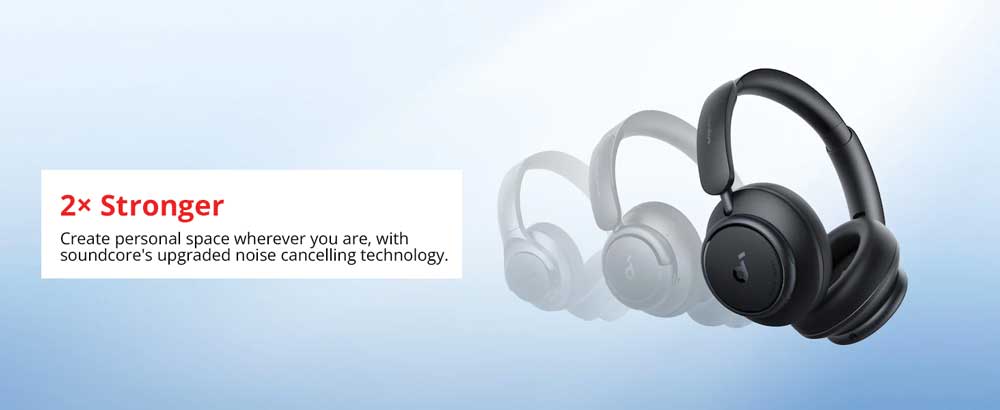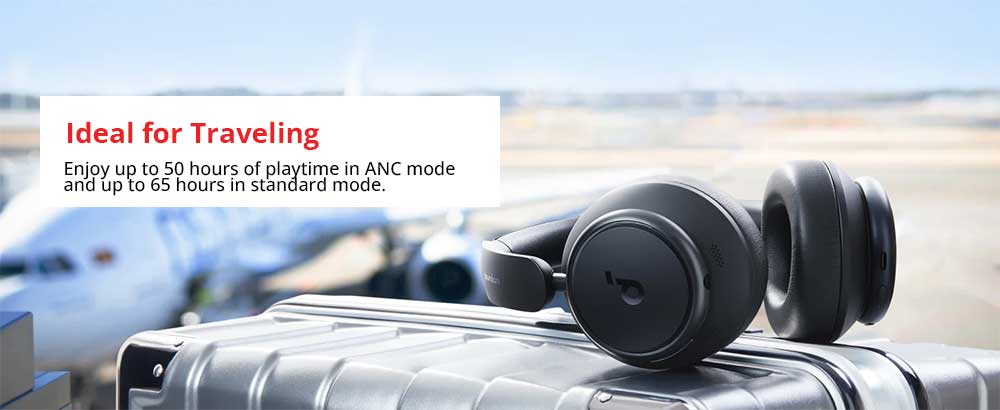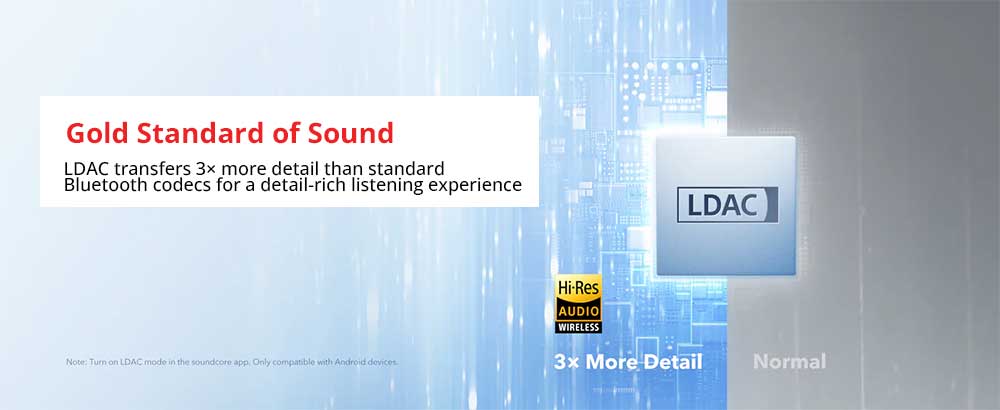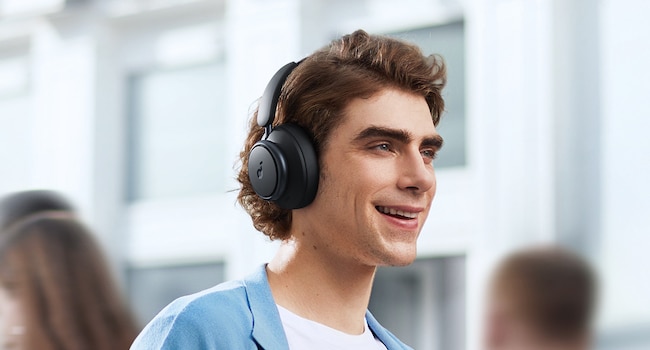 AI-Enhanced Calls
Whether you're in a cafe, on the train, or just on a walk, be heard in crystal-clear clarity thanks to two microphones and an AI algorithm that identifies and picks up your voice precisely from your surroundings, no matter where you are.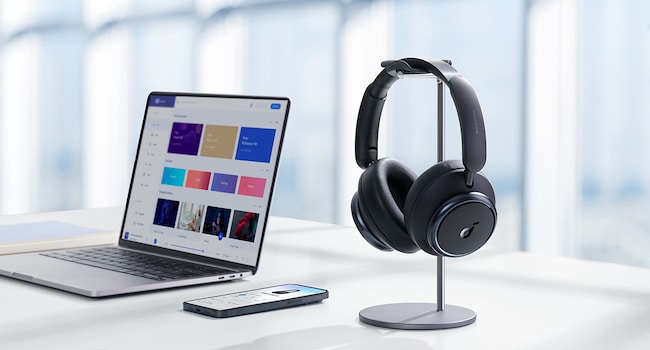 Dual Connection
Stay connected to two devices with Bluetooth 5.3 and multipoint connection. Instantly switch between music, calls, videos, and more on different devices hassle-free to save you time and effort.
Anker SoundCore Space Q45 Adaptive Noise Cancelling Headphones
Buy Anker SoundCore Space Q45 Adaptive Noise Cancelling Headphones  online in Bangladesh on umrelo.com at lowest price in Bangladesh.
Anker SoundCore Space Q45 provides great noise neutralization and sound for less than half the price of the Samsung Galaxy Buds Pro and nearly a third of the AirPods Pro .
Anker is the global leader in charging technology. Anker is the top rated brand in Amazon.
SoundCore is now available in more than 50 countries and regions, has over 20 million users, 181 licensed patents in the audio field, and has many exclusive technologies such as BassUp and PartyCast. The quality of the products offered by Anker is excellent and this one is no different. Build quality is good, sound quality is at par with the likes of Jbl, Harman, Sony
Buy latest and trendy Headphones , Wired Headphones, Wireless Headphones, True True Wireless Earbuds and Speakers from a wide range of Brands at best price with official Warranty from umrelo.com.
umrelo.com has a dedicated section for all your audio needs. Visit The Audio Store to get latest update on anker soundcore headphones price in bd , airpods price in bd , bluetooth headphones, bluetooth headphone price in bd  anker headphones price in bd , wireless headphones price in bd, Anker Soundcore Life P2i price in bd and many more and get best price, warranty service and after sales service every time.
Buy original Anker Bangladesh products in Bangladesh from umrelo.com and enjoy warranty and after sales service.