Anker PowerExpand Plus 5-in-1 USB-C Ethernet Hub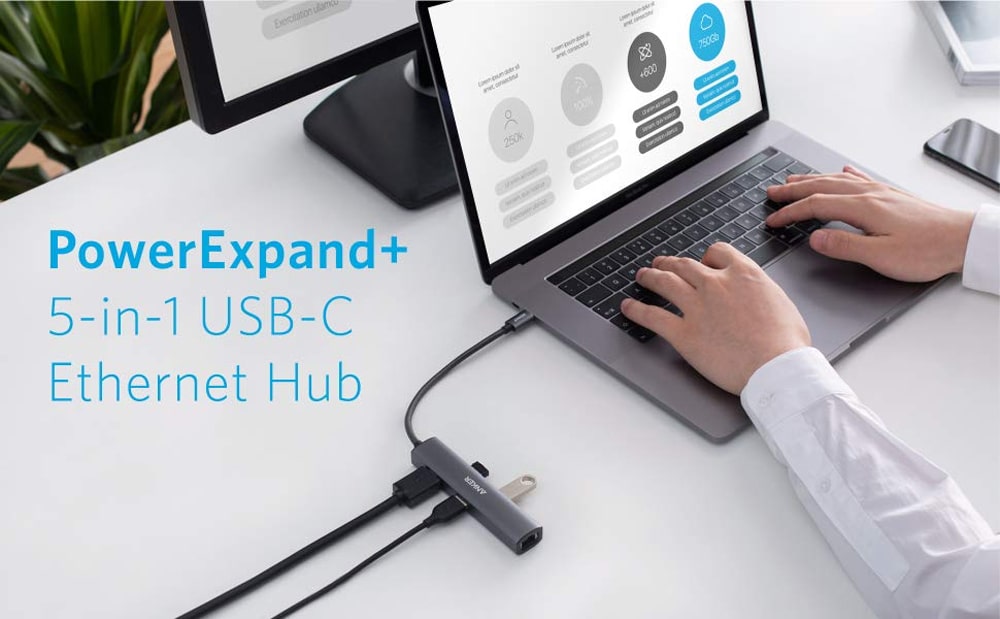 Get 3 USB data ports, 1 HDMI multimedia port, and 1 high-speed Ethernet port—all in one hub.
Vivid Video, Speedy Sync
Access 5 Gbps data transfer speeds with the 3 USB ports, or connect to the HDMI port to stream videos in crystal-clear 4K at 30Hz.
Instantly connect to the internet via the 1 Gbps Ethernet port for a stable and reliable connection. Perfect for areas of your home with poor Wifi connectivity.
The USB-C hub's aluminum surface dissipates heat, and the braided nylon cable is designed to withstand up to 2000 bends.
Compatible Devices Include:
MacBook / MacBook Pro ( 2017 / 2018 / 2019)
MacBook Air (2018 / 2019)
iPad Pro (2018 / 2019 / 2020)
XPS (13 inch / 15 inch)
Pixelbook (2017 / 2018 / 2019)
Incompatible Devices:
Nintendo Switch
Apple USB SuperDrive
Supported Systems:
Windows 10, 8, 7, Vista, XP, Mac OS X 10.6 or later, Linux 2.6.14 or Later
Please Note:
Only iPad Pros with iPad OS are compatible
For a stable connection, avoid connecting devices that exceed a total of 900 mA. Devices are usually rated as follows:
Mouse 100 mA
USB Flash Drive 100 mA
Camera 300 mA
Keyboard 500 mA
External Hard Drive 900 mA
The extended cable is 0.6 ft long.