Anker 737 Charger (GaNPrime 120W)
Power 3 Devices at Once: With 2 USB-C ports and one USB-A port, you can charge your phone, tablet, and notebook all at once from a single charger. Connect a single device to charge at up to 100W.
Charge Up to 26 Minutes Faster: Our exclusive PowerIQ 4.0 technology features Dynamic Power Distribution, which detects the power needs of connected devices and adjusts power automatically to ensure faster, more efficient charging.
ActiveShield 2.0: Anker's proprietary technology enhances protection by intelligently monitoring temperature over 3 million times per day and adjusting power output to safeguard your connected devices.
Greener with GaN: If every household in the US used our GaNPrime™ products in place of non-GaNPrime™ products, the amount of power saved could be up to 796.39 million kWh per year—that's enough energy to power Hawaii for a full month.
Specification:
Anker GaNPrime™

GaN Technology
PowerIQ™ 4.0
ActiveShield™ 2.0
Interlocking Structure

Otput: 120W Max
Input Voltage: 100V – 240V
Number of USB-C Ports: 2 USB-C Ports
Number of USB-A Ports: 1 USB-A Port
Number of Outputs: 3
One-Port Charging:

USB-C 1/USB-C 2: 100W Max
USB-A: 22.5W Max

Two-Port Charging:

USB-C 1 (Top Port) and USB-C 2
(Middle Port)
USB-C 1 + USB-C 2: 120W Max
USB-C 1 + USB-A: 120W Max
USB-C 2 + USB-A: 24W Max

Three-Port Charging

USB-C 1 + USB-C 2 + USB-A: 120W Max

Dimensions:: 1.7 × 1.25 × 3.14 in / 43 × 32 × 80 mm
Weight:: 6.6 oz / 187 g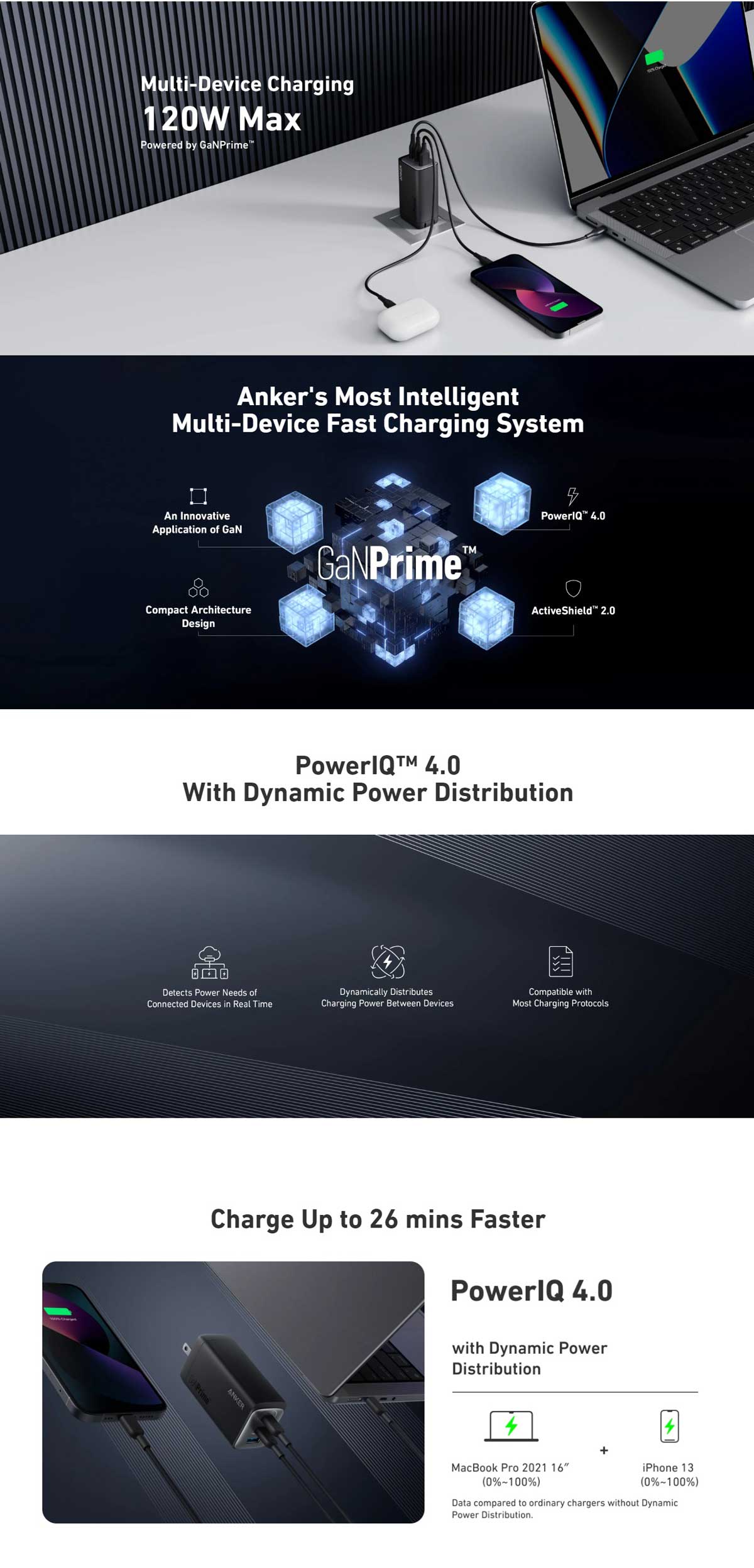 Anker 737 Charger (GaNPrime 120W)
Buy Anker 737 Charger (GaNPrime 120W) Online at best price in Bangladesh on umrelo.com
Anker is the global leader in charging technology, taking your mobile devices further than you ever thought possible. . Baseus Bangladesh Products is known for qulaity products at affordable price,
Buy latest and trendy PowerBanks in Bangladesh ,Wall Chargers in bangladesh,  Wireless Chargers and Charging Cables from a wide range of Brands at best price with official Warranty from umrelo.com.
umrelo.com has a dedicated section for all your  Mobile Charging needs. Visit umrelo.com  to get latest update on Anker Nano charger price in bd , fast charging cable price in bd , Anker Power bank price in bd, Anker iPhone Charger price in bd,  Anker cable price in bd , wireless power bank price in bd and many more and get best price, warranty service and after sales service every time.
See more Wall Charger: https://umrelo.com/wall-chargers/
Buy original Anker Bangladesh products in Bangladesh from umrelo.com and enjoy warranty and after sales service.