Amazon Echo Dot (4th Gen) Smart Speaker with Alexa
Meet the all-new Echo Dot – Our most popular smart speaker with Alexa. The sleek, compact design delivers crisp vocals and balanced bass for full sound.
Voice control your entertainment – Stream songs from Amazon Music, Apple Music, Spotify, SiriusXM, and others. Play music, audiobooks, and podcasts throughout your home with multi-room music.
Ready to help – Ask Alexa to tell a joke, play music, answer questions, play the news, check the weather, set alarms, and more.
Control your smart home – Use your voice to turn on lights, adjust thermostats, and lock doors with compatible devices.
Connect with others – Call almost anyone hands-free. Instantly drop in on other rooms or announce to the whole house that dinner's ready.
Designed to protect your privacy – Amazon is not in the business of selling your personal information to others. Built with multiple layers of privacy controls including a mic off button.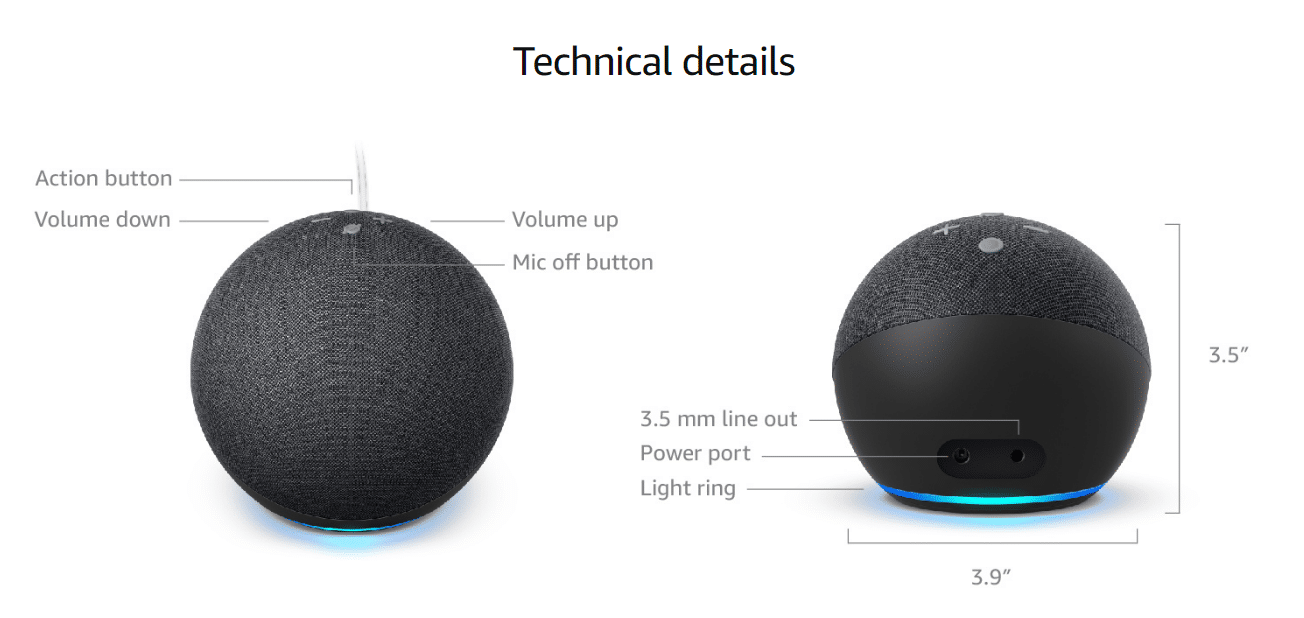 Specification:
Size: 3.9" x 3.9" x 3.5" (100 x 100 x 89 mm)
Weight: 12 oz (341.3 g)
Wi-Fi connectivity: Dual-band Wi-Fi supports 802.11a/b/g/n/ac (2.4 and 5 GHz) networks. Does not support connecting to ad-hoc (or peer-to-peer) Wi-Fi networks.
Generation: Echo Dot (4th Gen) – 2020 release
Power Source: Plug-in
System requirements: Echo Dot comes ready to connect to your Wi-Fi. The Alexa app is compatible with Fire OS, Android, and iOS devices and also accessible via your web browser.
Amazon Echo Dot (4th Gen) Smart Speaker with Alexa
Amazon Echo Dot (4th Gen) Smart Speaker with Alexa is now available at best price in Bangladesh on Umrelo.com
As anyone familiar with Amazon Echo Dot devices knows, set-up is a case of downloading the Alexa app on your smartphone. It is easy and all one has to do is plug in the Dot, and follow the prompts. There have been some adjustments in terms of helpful advancements that have been made to encourage the ownership of several Echo devices.
If we take into account the sound quality, the new Dot is not as much of a leap forward as the new Echo. It is definitely better-sounding than the previous model which is the 3rd Gen model, but only slightly. In fact, you really have to be comparing them side by side to notice the difference. The sound is a little more full and there are a slightly better soundstage thanks to the dome-shaped design, but the speaker is the same size and power as before and it doesn't support stereo like the Echo.
The fact that the sound isn't greatly improved is not a bad thing. The 3rd Gen model sounded shockingly good for its price and size, and the new model is much the same.
By updating its most popular and affordable Echo device, Amazon has laid down the most compelling case yet for choosing Alexa. Regardless of the Marmite aesthetic, responses are slightly quicker, answers are much clearer, and the sonic performance is better than ever.
https://www.whathifi.com/reviews/amazon-echo-dot-4th-generation