Amazfit GTR Mini Smart Watch
Strong & Accurate GPS Tracking: From cycling through city streets to walking through wild woodland – wherever your travels take you, support for five satellite systems means the Amazfit GTR Mini will be able to pinpoint your position with the kind of precision only provided by Amazfit's patented circularly-polarized GPS antenna technology.

14-day Battery Life: The Amazfit GTR Mini packs the power-efficient software and hardware to conserve the battery power you need to crush your goals for up to two weeks with typical usage, and 20 days with battery saver mode.

120 plus Sports Modes & Smart Recognition: Whatever workout gets you pumped, the Amazfit GTR Mini can likely track data for it. Check your steps, calories burned, and more for over 120 different sports, and get a post-workout report when you're done. The smartwatch can even automatically detect seven sports, so it's easy to jump into action.

24/7 Heart Rate, SpO₂ & Stress Monitoring: The Amazfit GTR Mini is empowered by the health-centered Zepp OS 2.0 to provide 24-hour monitoring of heart rate, blood-oxygen and stress levels. And you can get a result for all three metrics in as fast as 15 seconds with the super-convenient One-tap Measuring function. The watch can be set to send a reminder if it detects abnormally: high or low heart rates, low SpO₂ levels, or high-stress levels.

Maximize Your Sleep Quality: This health tracker provides In-depth monitoring of sleep quality & daytime naps, light, deep & rem sleep stages, and sleep breathing quality. Engage the Sleep Mode when it's time to rest, and the watch will reduce display brightness and disable notifications – so you'll be refreshed and ready for action when you wake up.

Slim & Stylish Design with Stainless Steel: Color outside the lines and embrace what makes you exceptional, with the classy round Amazfit GTR Mini. At a super-slim 9.25mm and lightweight 24.6g, the GTR Mini not only looks compact, but is also very comfortable to wear thanks to its skin-friendly silicone strap.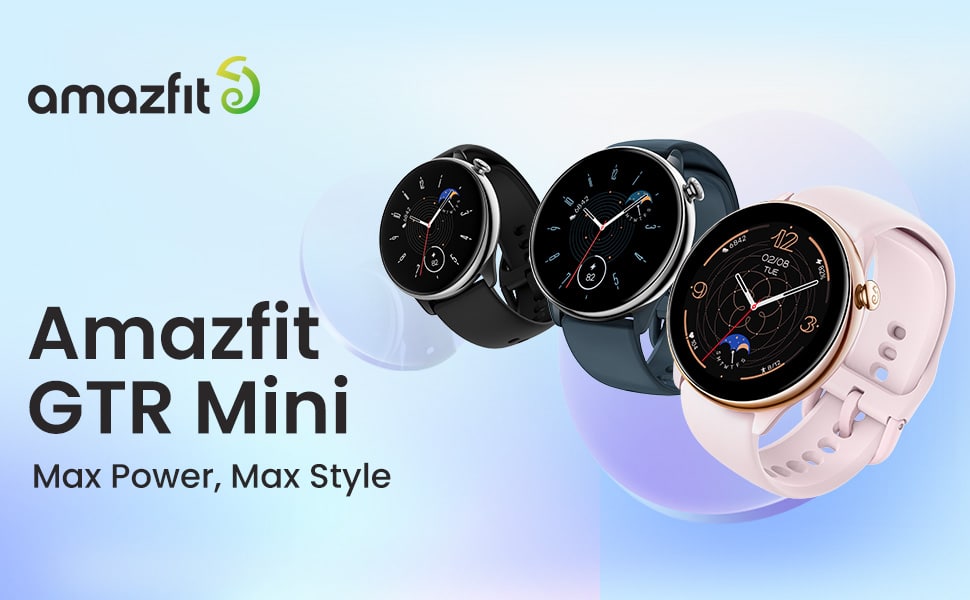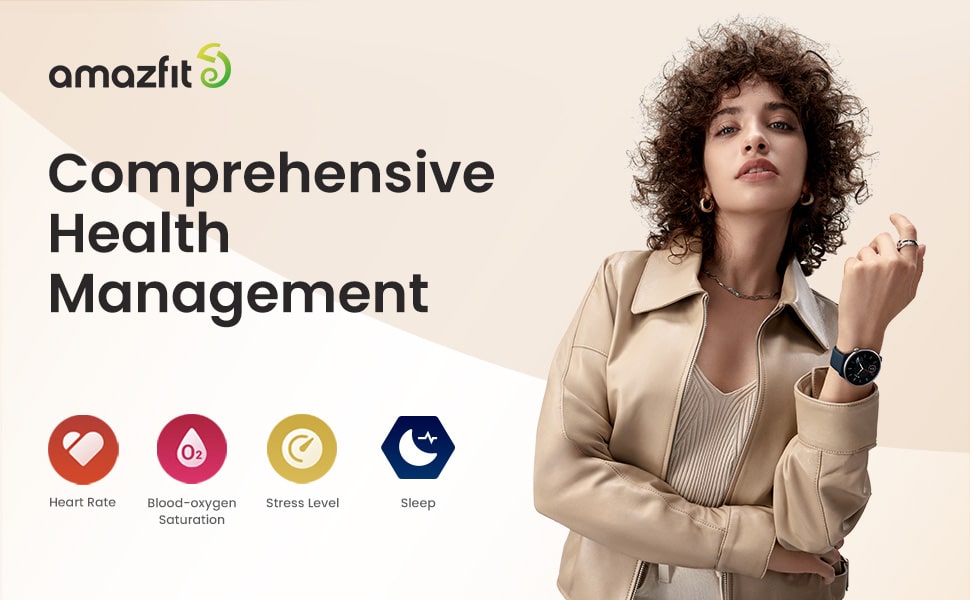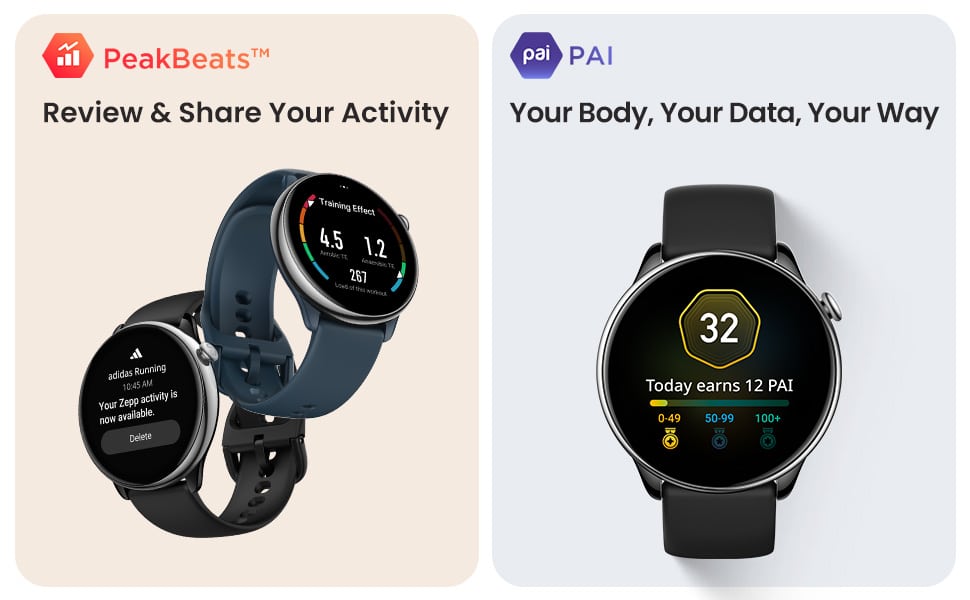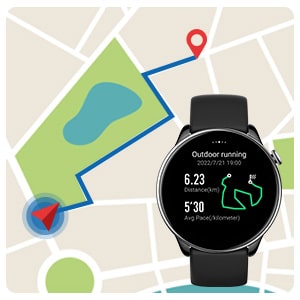 Strong and Accurate GPS Tracking
The Amazfit GTR Mini uses a patented circularly-polarized GPS antenna, which allows it to pick up almost twice as many satellite signals as other smartwatches with a regular antenna. The watch also supports five satellite positioning systems for greater global coverage.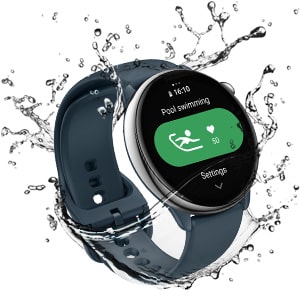 5 ATM Water-resistance
The watch can withstand the equivalent of up to 50 meters' water pressure, so head for a swim free from worry with the Pool Swimming and Open Water Swimming modes!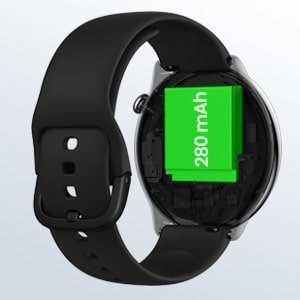 Ultra-long 14-day Battery Life
The Amazfit GTR Mini acts as a dynamic power-up for your action-packed lifestyle, and provids the battery power you need to crush your goals for up to two weeks at a time, with typical usage.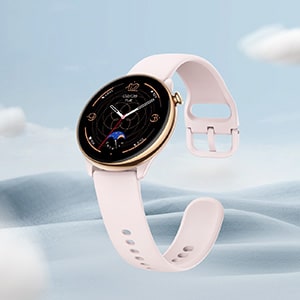 Bright & Clear HD AMOLED Display
Elegantly crafted with curved glass and protected by anti-fingerprint coating, the HD AMOLED display is where style comes full circle. Choose from over 80 watch faces, along with the new Portrait Mode option – which lets you upload three of your favorite pictures, and alternates between them every time you wake up the display.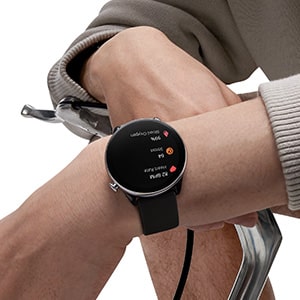 Easy 24/7 Health Management
The watch's sensor works in tandem with the health-centered Zepp OS 2.0 to provide 24-hour monitoring of your heart rate, blood-oxygen saturation (SpO₂) and stress level. You can also simultaneously test these three metrics in one tap, for a result in as quick as 45 seconds.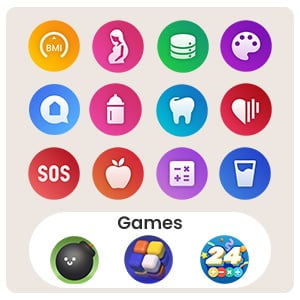 Rich Ecosystem with 3rd Party Apps
The Zepp OS 2.0 supports an enhanced app ecosystem populated by a large amount of downloadable apps and games. Through connection to the Zepp App on your phone, you can choose from a wide range of self-developed and third-party apps to enhance your health and fitness journey, as well as your everyday lifestyle.
Specification:
Dimensions: 42.83×42.83×9.25mm
Weight (with strap): 36.2g
Body Material: Stainless Steel + plastic
Display Type: AMOLED
Size: 1.28″
Resolution: 416×416
PPI: 326
Battery Capacity: 280 mAh (rated value)
Charging Method: Magnetic charging
Charging Duration: Approx. 2 hours
Typical Usage Scenario Battery Life: Up to 14 days
Battery Saver Mode Battery Life: Up to 20 days
Heavy Usage Scenario Battery Life: Up to 7 days
Continuous GPS Usage: Up to 25 hours
Health: BioTracker™ PPG biometric sensor (supports blood-oxygen)
Positioning: 5 satellite positioning systems
Connection: Bluetooth 5.2
Supported Devices: Android 7.0 and above, iOS 12.0 and above
Application: ZeppApp